Background: 
Grey Crowned Cranes are being ringed to study their movements and timing, determine regional populations, mortality and other aspects of their natural history such as age at first pairing and breeding. Ringing involves placing a metal or coloured ring or band on the bird's leg. This is a joint initiative of several organizations (NMK, KWS, NABU, ICF/EWT and Cranes Conservation Germany). The focus for now is to mark a substantial population of Grey Crowned Crane (GCC) across the range States. 
Colour bands or rings: The ringing program being adopted for Kenya and the rest of the GCC range is from the European Crane Ringing Program that has been running since early 1990s led by Cranes Conservation Germany. In Kenya, the program was rolled out in December 2017, and by August 2020, a total of c.60 flightless chicks had been colour-marked in Lake Ol' Bolossat and Mugie Wildlife Conservancy – initially considered as one population (NB: Kenya is perceived to have six GCC populations but GPS data is proving otherwise!). A few individuals were additionally fitted with GPS tags. 
Why ring flightless chicks? These have the advantage of avoiding the use of traps that could injure delicate waterfowl such as cranes, and give us the certainty of both origin (hatching place) and age (GCC chicks fly from 12 weeks of age) – compared to an adult with an unknown past. Due to chick mortality (especially from predation by stray dogs and mongoose) and mysterious disappearances (likely from poaching for the bird trade), we prefer to mark them at age 10 or 11 weeks – just when they are about to fledge.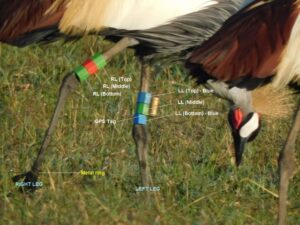 Colour Combinations: Currently, there is a choice of 7 colour rings. A set of three is placed on each leg. The following is an interpretation of each ring: 
LEFT LEG: The top and bottom rings are the country colour code which for Kenya is Blue (Bu) while the middle ring is the population. We have been using Green (G) for the Lake Ol' Bolossat basin population, and western Kenya has settled on Red. The combination is read top to bottom thus BuGBu. 
RIGHT LEG: This is the unique individual combination of any 3 colours from a choice of 7 [Green (G), Blue (Bu), White (W), Yellow (Y), Red (R), Brown (Br) and Black (Bk)]. The combination is also read top to bottom: GRG. 
GPS tags: At the moment, two types of solar-powered tags are in use: a backpack, and one glued to the colour rings. 
Some findings so far: Re-sighting of colour-marked individuals has been very poor, especially after the chicks take to the air as they disperse to join the non-breeding ('floater') flocks. The most rewarding data is from individuals marked with GPS tags. 
Report marked crane sightings: This study is just starting and we hope to spend quite some time unravelling the little-known life of the Grey Crowned Crane. We would therefore appreciate it if any information on marked cranes is shared with us at Wanyoike Wamiti wwamiti@gmail.com (WhatsApp +254 733 599 686) with a cc to George Muigai georgeccv.ke@gmail.com. Your records will be highly appreciated and acknowledged.