Meet the birdman Ayiro Lwala 
As you walk through the compound in the morning, the sweet singing of birds fills the air. White-browed Sparrow Weavers, White-browed Robin Chats, and African Thrush are just a few of the birds that congregate at the scattered makeshift birdfeeders. Welcome to Ayiro Lwala's homestead in the small village of Kanyibok, in Siaya County.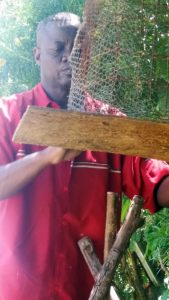 "People are curious to know why I feed birds that eventually fly away. That's my cue to initiate a conversation on the importance of protecting birds and their habitats," says Ayiro, a passionate naturalist. 
Ayiro's deep-rooted love for birds developed when he was a boy. He recalls adoring the White-browed Robin Chat for its singing. "People who sang so well were referred to as Hundhwe (the local name for Robin Chats) back then. I was mesmerized by its singing and the sound of singing birds remains my inspiration," he says. 
Ayiro's fondness of birds blossomed and now he has placed 'feeding corners' around his homestead to attract birds. He is often spotted either in the company of other birders or undertaking waterfowl counts at the mouth of River Yala. Fellow villagers have nicknamed him the birdman. 
It is no wonder then that Ayiro was the first member of the community to be contacted by Walter Tende, a fisherman from Usalu village when he rescued an injured Osprey with a Finnish tag. Through Ayiro's efforts the Osprey was evacuated to Nairobi for treatment, making news locally and internationally. Unfortunately, the Osprey died, but Ayiro's efforts did not go unnoticed. Kenya Birds of Prey Trust called Ayiro to offer him a training opportunity on the handling and caring for birds of prey. 
"The Osprey incident generated a lot of public interest. We took advantage of this to sensitise the community on the importance of conserving birds and their habitats. Some community members are even willing to dedicate part of their land for conservation, and this is very encouraging," he says. 
Ayiro is also the Chairman of the Yala Ecosystem Site Support Group (YESSG). Armed with just basic skills and tons of enthusiasm, members of this group are spurring birding interest in villages within the Yala Swamp Important Bird Area (IBA). The group regularly holds bird walks, carries out biodiversity surveys, conducts school outreach, and shares bird information and photos on their social media platforms. They are also in the process of developing a bird checklist for Yala Swamp that will feature local bird names.
Meet David Marenya, an artist and a nature lover 
David is another member of the group. He combines talent, skill and passion to transform waste into unique artworks. Art pieces featuring birds form a large part of his collection. But why birds? 
"Our ancestors considered birds sacred. Birds were seen as diviners, predictors of seasons. They could forecast imminent disasters. In Lake Victoria, they helped fishermen and sailors in navigation. All through the ages, birds have played a significant role in human lives. Their ability to interact with humans in many ways adds to their appeal," he explains.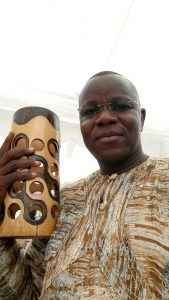 David has done art pieces featuring the Long-crested Eagle, Great Blue Turaco, Pied Kingfisher, Papyrus Gonolek, and other birds found in Yala. The pieces are exhibited at local, regional, national and international forums. Through his art, David occasionally attracts visitors to Yala to see the birds portrayed in his pieces.   
Meet Patrick Kung'abi, an aspiring bird guide 
Patrick was mentored by YESSG and has an outstanding ability to quickly spot and identify birds while giving tidbits of information about their natural history. 
"The relationship between birds and humans was well manifested in our traditional festivals. For instance, it was common for the turkey-sized Southern Ground Hornbill to grace cultural occasions, having been drawn to the rhythmic drum beats. The bird would easily mingle with the dancing crowds. This close interaction with birds is part of our cultural heritage and we are striving to preserve it through bird watching," says Patrick.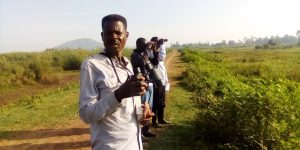 Patrick can name birds in his native Bunyala dialect and is using his knowledge to help translate the bird checklists from English into the local Bunyala language. 
Meet Boniface Kesa and Edwin Onyango, members of the YESSG team who run school and mentorship programmes in Bunyala, Busia county. They organise bird walks for schools, inspiring school children to take up bird watching as a hobby, something they love to do. 
"Helping children look through a pair of binoculars opens up a new world of birds to them," acknowledges Boniface.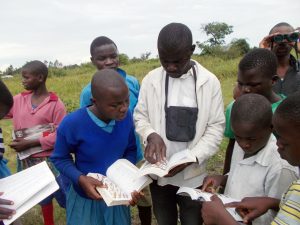 "Sharing my interest in conservation through birding encourages the community and school children, in particular, to appreciate birds," notes Edwin. 
"Children enjoy listening to stories of birds of prey and waterbirds, which they can easily identify. Quite often you will see them interrupting stories to dramatise the birds' actions," adds Boniface. 
The YESSG team is working with six primary schools and the popularity of the school bird watching programme, is on the rise. "During the holidays children come knocking on my door on Saturday mornings asking to go out birding," says Edwin.