Working Groups
Youth Committee
The Youth Committee is an action group of Nature Kenya initiated by the Society's youth members. Our main task is to initiate, encourage, support and maintain an active involvement of youth members in Nature Kenya's activities
Vision
To facilitate better understanding and appreciation of nature in all its forms (with particular emphasis to East Africa)
Mission
To protect and preserve our Natural Heritage through engaging in various conservation and educational activities with communities, conservation groups and other organizations with similar objectives
Motto
Connecting youth with nature
Aims and objectives
Raising awareness and advocacy in environmental conservation.
Networking and collaboration (participating in local and international events that involve the youth in environmental conservation.)
Organizing youth camping trips, field excursions, hiking and other outdoor activities aimed at establishing a conservation ethos.
Organizing youth workshops targeting youth clubs and societies in academic institutions with the aim of establishing rapport and generation consensus on biodiversity conservation issues.
Facilitating new membership recruitment to Nature Kenya.
Sub committees and ongoing programmes within the Youth Committee
Education and Outreach Programme
Seeks to create awareness, debate and educate its members and other institutions on emerging conservation issues in Kenya and beyond.
Trips and Outings
Organizes tours to unique areas of wildlife, cultural and geological interest with the aim of educating and training its members on various aspects that emphasize environmental conservation.
Networking and Collaboration
Act as a linkage to conservation groups and organizations with youth in conservation at heart.
Our Activities Include
Trips to areas of interest,
Assistance in the annual water bird counts (In conjunction with the Ornithology section of the National Museums of Kenya),
Seminars and workshops,
Implementation of conservation projects by Nature Kenya in partnership with like-minded groups,
Participation in National and International days with a view to network and familiarize ourselves with the current affairs.
The Core Team
Hesborn Moogi - Chair
Mildren Juma - Vice chair
Howard Atubwa - Treasurer
Jacinta Chege - Secretary
Membership
Membership to the Nature Kenya Youth Committee is open to any individual who is a member of Nature Kenya, sympathetic of the objects of the Youth Committee.
Meetings
Meetings are held every 1st Wednesday of every other month from 1200hrs till 1400hrs at Nature Kenya's boardroom. There is an annual general meeting where elections are held as well as the generation of a calendar of activities for the following year. This meeting is held in December.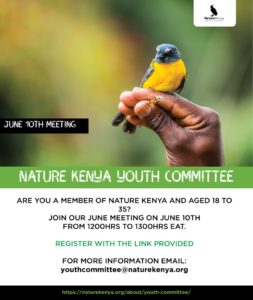 Contact
For more information please contact Youthcommittee@naturekenya.org
Youth Committee members at Hyrax hill Museum