Working Groups
Mammal Committee
The Mammal Committee of Nature Kenya seeks to promote conservation and appreciation of Kenya's mammal heritage through citizen science and other forms of public engagement.  Through recruitment of committee members, volunteers, and conducting public awareness campaigns and lectures on specific issues on mammals, the Mammal Committee works to promote participatory generation and utilization of scientific knowledge necessary for conserving these invaluable natural resources for present and future generations.
Core team:
Simon Musila - Patron
Leo Malingati - Chair
John Kabue - Vice chair
Leah Muthama - Secretary
The committee operates within the vision of the Society but also the philosophy that:
"humans are mammals. We all arose and became human among other mammals, in very special circumstances within a mix of many varieties of plants and other animals around us. Thus, to destroy mammals is to irreversibly divorce ourselves from our own biological and intellectual past. To destroy mammals is to trivialize our origin, culture and future."
To that end, we work with scientists, local communities and school children to learn, appreciate, and conserve mammals as integral parts of our heritage. It is for that reason that we welcome volunteers to join the us, as well as suggestions, donations and any contribution of ideas as we journey towards a better balanced natural environment for us all.
Examples of Ongoing or recently completed projects
Citizen science where anybody can contribute to documenting and gaining knowledge on mammals of Kenya: see http://www.inaturalist.org/projects/mammals-of-Kenya
The Vanishing Heritage of our time: The Little 5 mammals of Kenya talk series
Environmental role of Straw-colored Fruit Bat Eidolon helvum in Kenya
Attitudes and general perceptions about bats in Kenya (MAmmal ATLAS in Kenya (MAKE))
How to join
Join Nature Kenya as a member then freely join the Mammals Committee
Members of the Mammal Committee are welcome to come up with ideas for conserving our heritage, create awareness and projects. Naturalists, amateur or professional, are welcome to interact with us. The Mammalogy section of the National Museum of Kenya offers collaborative opportunities for scientists and students at all levels from abroad and locally, interested in researching in any aspects (taxonomy, behaviour, ecology, wildlife diseases & parasites, human-wildlife conflicts) of mammal species found in Kenya.
Online contribution and discussions on Mammals – you can log into our facebook page – MAmmal ATLAS in Kenya (MAKE) – for discussions about mammal conservation in Kenya including posting of photos, interesting behaviour of mammal species and queries about research, distribution and conservation of mammals in Kenya.
The Mammal Committee and the National Museums of Kenya have also partnered with Spotteron Citizen Science to develop a mobile app to monitor mammals in Kenya.
The mobile app, known as Mammal Atlas Kenya (Makenya), is currently available on Google Play and Spotteron (www.spotteron. net). Spotteron is a web-based platform that hosts citizen science, environment protection and volunteer monitoring apps.
Email: mammal@gmail.com or office@naturekenya.org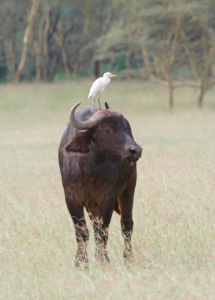 African Cape buffalo feeding on grass and a cattle egret depending on it to unravel its food- grass hoppers and crickets by Bernard Agwanda